Small Business Snapshot
Puzzle's Fun Dome owners develop franchise concept that offers child care, entertainment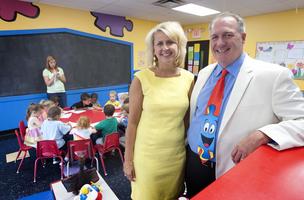 Ron Bath | Business First
Childrens Franchise Opportunity Group Inc.
What it is: A bundled franchise model with child-development and entertainment segments.
Owners: Tim and Kim Stevenson
Employees: 22 full-time; 20 to 40 seasonal part time
Address: 11530 Bluegrass Parkway
Phone: (502) 261-7144
Web site: http://puzzlesfranchise.com/

For
Tim Stevenson
and his wife
Kim Stevenson
, business success has hinged largely upon timing.
The owners of Puzzle's Fun Dome and related companies were ahead of the curve in 2008 when they decided to diversify and offer weekday child care at their indoor entertainment park in Jeffersontown.
And now, the timing appears to be perfect for the couple to market their family entertainment and education concept as a bundled franchise under parent company Childrens Franchise Opportunity Group Inc. In May, Entrepreneur Magazine named the concept as one of its top franchise categories for 2013.
The Stevensons filed franchise disclosure documents.....
http://www.bizjournals.com/louisville/print-edition/2013/07/26/puzzles-fun-dome-owners-develop.html?surround=etf&ana=e_article